~ Saturday, April 14th ~
PHONE DISPLAY: SCROLL RIGHT!!
~ Sunday, April 15th ~
PHONE DISPLAY: SCROLL RIGHT!!
Around the Festival: 
The Naga
Imagine Circus ~ Stilt Walking
The Dragon Riders
Buttonwood the Brownie and her Trading Post
Puss in Boots
The Knightly Order of the Fiat Lux
The Children's Glen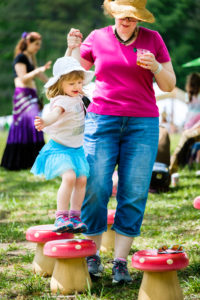 There's lots to do all day in The Children's Glen.  Come to the Glen first thing in the morning to take part in The Passing of the Crown Ceremony with the Summer and Winter Fairy Queens.
Or drop in whenever…
Visit the Pinwheel Garden…it's grown since last year.  Have a play tea party.
Strike up some fairy music.
Visit the gnome village.
Dance in the bubbles or lounge in the mermaid grotto.
Challenge a friend to a game of gnome checkers.
Get to the center of the fairy maze, and back out again.
Listen for the whistle to compete in one of the fairy tale field day challenges
Try your luck and skill in the carnival games. All the classic games and prizes with a storybook twist ($0.50 per play).
Come to the Fairy Apothecary to mix spells, bottle wishes, and make magic wands or make lanterns and suncatchers and other creations in the crafts tent (Crafts $5).
Purchase the scavenger hunt souvenir pass ($5) and solve the clues to receive a cage of tiny dragons, the more clues you solve, the more dragons you get, plus souvenir stickers, and a button.
Special Event: Fairy Tea Party (One each day at 4:00!)
A real tea party with real china! 2 teas and a selection of treats. Learn about fairies, listen to stories, and take home your own tea setting, fancy teaspoon, and a special gift!
Limited to 15 children each day.  Ages 5+, lasts approximately 75 minutes, and parents don't have to stay (but all attending adults must be accompanied by a designated child!) ~ $15 (Included with Family VIP pack!)
Children's Glen Scheduled Events (same schedule both days):
Passing the Crown ~ 10:30
Dragon Story Time ~ 11:15
Giggle Guardians ~ 12:00, 1:30, 4:45
Goblin Wiz'ard Show (with Gandersnitch the Goblin!) ~ 12:45
Fairy Tea Party (Special Pass required, see above) ~ 4:00