What is a "Fairy Festival"?
Fairy Festivals are a bit different from renaissance faires – Renaissance faires generally focus on real-world historical accuracy and education, while we celebrate mythology, folklore, and fairytales (with a dose of current, popular fiction) and bring joy by presenting an eclectic blend of artistry, music, dance, fantasy costuming, and play. Our mission statement in-part declares that we strive, "to provide an escape from the world while working to improve it at the same time."
Where is the Festival of Legends?
May I bring my pet(s) to the Festival?
Sorry, but pets are not permitted at the Festival of Legends. Service animals are, of course, always welcome.
Do I have to come in costume?
Only if you want to: jeans and t-shirts are just as welcome as dragon costumes, fairy wings, Steampunk and Dr. Who cosplay (all of which we – and you – will see). We do kindly ask that, whatever you wear, it is both appropriate for public viewing and that it "leaves the real world out of it" – please, no historical emblems, symbols, or flags from the real-world's past (modern shirts and hats with contemporary images, such as the current American flag, are just fine; you can even wear your favorite band's shirt, too, if you want).
Can I come armed to the event?
We would prefer no live-steel (ie sharpened blades). If you do bring a sword, ax, mace, tetsubo, atlatl, or what-have-you to the event, we require that it be peace-tied (bound with cord so that it cannot be easily drawn). This applies to anything that looks like a weapon, be it a prop or battle-ready. We respectfully ask that no firearms, concealed or otherwise, be present.
Can I bring a lunch?
Sorry, but we can only allow attendees to bring water into the event. No other outside food or drink within, please. We also kindly ask that attendees do not tail-gate or hold gatherings in our parking lot.
Do you close due to weather?
The Festival of Legends is a rain-or-shine event, and we have added a lot of additional pavilions for shade or shelter this year. In the event of dangerous or severe weather (such as record-breaking winds…just an example…) we might close certain attractions, and we will post such on our Facebook, Twitter, and Instagram accounts.
I bought a ticket / VIP package / camping package on-line; how do I get it?
All tickets and VIP packages can be collected at Will Call, which will be located next to the ticket booth, which is located next to the Front Gate.
Can we hold a birthday party at Festival of Legends?
Of course! We love a celebration, and are happy to accommodate. To make party arrangements, please email us at www.festivaloflegends.com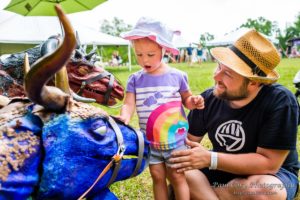 Can I bring my own tent / camping chairs and claim some space at the event?
Sorry, but for insurance reasons and by county permitting ordinances, we cannot allow patrons to establish sites or add tents on the event grounds. If you are worried about shade, there will be several large pavilions with picnic tables open for everyone to use. Families with children (only) are very welcome to lounge on picnic blankets in the shade of the Children's Glen (and Family VIP's will even have their own shade umbrellas and chairs in The Glen this year! See the page on VIP packages for more information!).
How do I become a vendor or showcase an exhibit at the event?
You just need to to complete a vendor application, found here. The jury process may take up to two weeks. We do our best to avoid competition between our vendors and redundancies among artistic offerings. Because of this, we are not accepting any more applications for jewelry, leather, bath/cosmetic, or hair-ornament artistry for the 2018 season.
How do I become a performer at the Festival of Legends?
Our producer personally scouts and invites acts. Our entertainment line-up for 2018 is full and now closed; however, if you would like to perform for a future event, you can email him at www.festivaloflegends.com in July/August of 2018 for the 2019 event – please include video of your performance and brief description.
I live far away, but I really want to come; travel suggestions?
If you are looking to car pool, we suggest posting on our Festival of Legends Facebook Events Page (which will be active and public by November) and see if there are any Festival go-ers in your area. Sorry, but we cannot offer patron camping this year. If you are looking for a convenient hotel, we recommend the Comfort Inn Apex:
1411 East Williams Street
Apex, NC 27539
(919)387-4600